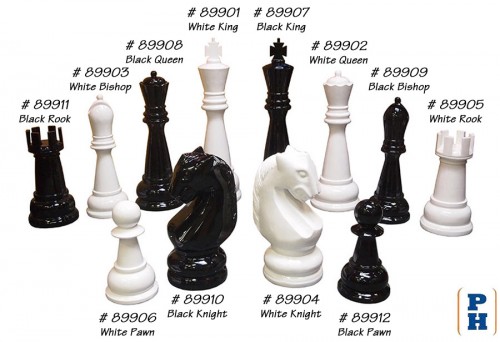 NOTE:
Photo may not reflect current condition or color.
Please call your salesperson for details.

(All Items are for Rental Only and are Not for Sale)
Item #
Qty
Size
01
1 of Each
To Rent, See Individual Listings


King 14-1/2"Dia x 47"H
Queen 14-1/2"Dia x 39"H
Bishop 12-1/2"Dia x 32-1/2"H
Knight 13"Dia x 27"H
Rook 13"Dia x 25"H
Pawn 10-1/2"Dia x 19-1/2"
Description
Oversize Black and White Chess Pieces: King, Queen, Bishop, Knight, Rook, Pawn
(Shown with 6" High Playing Pieces)
All Items Rent Separately, See Individual Listings



Related Items
Item #
Qty
Description
89905

1
Oversize Chess Piece, White Rook, Fiberglass,
Goes with Oversize Chess Pieces #89901- #89912,
Pieces Rent Individually
89902

1
Oversize Chess Piece, White Queen, Fiberglass,
Goes with Oversize Chess Pieces #89901- #89912,
Pieces Rent Individually
89906

1
Oversize Chess Piece, White Pawn, Fiberglass,
Goes with Oversize Chess Pieces #89901- #89912,
Pieces Rent Individually
89904

1
Oversize Chess Piece, White Knight, Fiberglass,
Goes with Oversize Chess Pieces #89901- #89912,
Pieces Rent Individually
89901

1
Oversize Chess Piece, White King, Fiberglass,
Goes with Oversize Chess Pieces #89901- #89912,
Pieces Rent Individually
89903

1
Oversize Chess Piece, White Bishop, Fiberglass,
Goes with Oversize Chess Pieces #89901- #89912,
Pieces Rent Individually
89911

1
Oversize Chess Piece, Black Knight, Fiberglass,
Goes with Oversize Chess Pieces #89901- #89912,
Pieces Rent Individually
89908

1
Oversize Chess Piece, Black Queen, Fiberglass,
Goes with Oversize Chess Pieces #89901- #89912,
Pieces Rent Individually
89912

1
Oversize Chess Piece, Black Pawn, Fiberglass,
Goes with Oversize Chess Pieces #89901- #89912,
Pieces Rent Individually
89910

1
Oversize Chess Piece, Black Knight, Fiberglass,
Goes with Oversize Chess Pieces #89901- #89912,
Pieces Rent Individually
89907

1
Oversize Chess Piece, Black King, Fiberglass,
Goes with Oversize Chess Pieces #89901- #89912,
Pieces Rent Individually
89909

1
Oversize Chess Piece, Black Bishop, Fiberglass,
Goes with Oversize Chess Pieces #89901- #89912,
Pieces Rent Individually