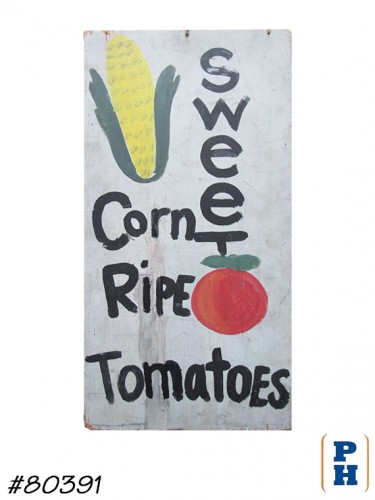 NOTE:
Photo may not reflect current condition or color.
Please call your salesperson for details.

(All Items are for Rental Only and are Not for Sale)
| | | |
| --- | --- | --- |
| Item # | Qty | Size |
| 80391 | 1 | 12" Wide x 24" High |
Description
Sign, Sweet Corn, Ripe Tomatoes, Hand Painted, Plywood



Related Items
Item #
Qty
Description
86751

1
Sign, Brown Eggs in Blue and White Bowl, "Farmers Market - Fresh Eggs", Oval Metal
63496

1
Mounts on Two Posts, Rents with Posts But Can be Hung Without

Posts are 67" High
75269

1
Wood Sign, Farmer's Market, May - November Paradise, Hand-Painted Wood
83542

1
Berries, Local & All Natural, blueberries, raspberries, boysenberries, elderberries, & gooseberries. PVC Plastic, White with Red-Pink Letters & Green Border.

This sign is cleared.
74893

1
Sign, Produce Association, White, Hand Painted, Plywood
80388

1
Radish, Hand Painted.

This sign is cleared.
71389

1
California Fresh Produce, Wood.

This sign is cleared.
78250

1
SIGN, Farm Produce on 3 Wood Boards w/ Chain. Fresh Eggs, Fresh Corn, & Butterbeans on one side, Sweet Corn, Apples, Pumpkins on the reverse.

This sign is cleared.