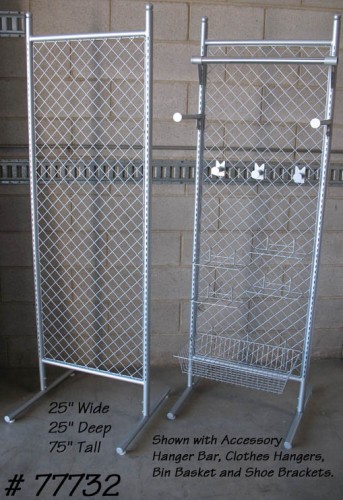 NOTE:
Photo may not reflect current condition or color.
Please call your salesperson for details.

(All Items are for Rental Only and are Not for Sale)
| | | |
| --- | --- | --- |
| Item # | Qty | Size |
| 77732 | 2 | 25" Wide x 25" Deep x 75" Tall |
Description
Chain Link Fence Display Unit with "T" Legs, Gray Metal.

Available Accessories Include Wire Bin Basket, Shoe Display Rack,
3" and 10" Clothes Hangers, 2' Clothes Bar,
6" Peg Hooks and Gray Plastic Display Shelf.
(Peg Hooks & Display Shelf are Not Shown)

25" Wide x 25" Deep x 75" Tall.

Related Items
Item #
Qty
Description
77733

2
Chain Link Fence Display Unit with "L" Legs, Gray Metal.

Available Accessories Include Wire Bin Basket, Shoe Display Rack,
3" and 10" Clothes Hangers, 2' Clothes Bar,
6" Peg Hooks and Gray Plastic Display Shelf.
(Clothes Hangers, 2' Clothes Bar & Display Shelf are Not Shown)

25" Wide x 15" Deep x 75" Tall.
77730

2
Chain Link Fence Display Unit with "T" Ends, Gray Metal.

Available Accessories Include Wire Bin Basket, Shoe Display Rack,
3" and 10" Clothes Hangers, 4' Clothes Bar,
6" Peg Hooks and Gray Plastic Display Shelf.
(Clothes Bar, Peg Hooks & Display Shelf are Not Shown)

51" Wide x 25" Deep x 62" Tall.
77731

1
Chain Link Fence Unit with Two Clothes Bars, Gray Metal.

Available End Cap Accessories Include Wire Bin Basket,
Shoe Display Rack, 3" Clothes Hangers and 6" Peg Hooks
© 2023 Prop Heaven
|
3110 Winona Avenue, Burbank, CA 91504 |
818.841.5882